News
21 January 2014

Winter Olympics 2014: Katie Summerhayes and James Woods are Sheffield's free spirits on skis set fair for Sochi

Katie Summerhayes was six when her father decided the family should take up skiing and bundled her and her sister off to the dry-ski slope in Sheffield. Three years later, Summerhayes met James Woods, who had first found his way to the slope after seeing an advert in the local newspaper. Nine years on from their first meeting, they will head for Sochi next month as best of friends and two of Britain's best hopes for winning a first Winter Olympic medal on snow.

The dry slope on which Britain's young skiers took their first run has gone, the Sheffield Ski Village suffered the first of a string of ruinous fires in 2012, but not before it provided the (more often than not snowless) setting for Woods and Summerhayes to discover their calling, that the nonconformity of freestyle skiing was much more to their liking than a straightforward descent of the hill.

"It's 15 minutes away from where I live," says Summerhayes. "My dad took me and my sister up there as a hobby. We all started together. I was six years old – all I can remember is skiing and that's pretty much all I've done." Likewise Woods, and it has introduced them to the world. Summerhayes spent much of December in Colorado, where she underwent an intensive training schedule to speed her recovery from a knee injury that threatened her Olympic place. Woods recently found himself in Ushuaia in Argentina, the southernmost city in the world.

"It's taken me to some really weird places," says Woods. "I was like, 'Crikey, what the heck am I doing down here with scary dogs and shanty towns?' Then again it wasn't that different, I'm from Sheffield." Woods is now in Aspen, preparing for next week's X Games – the annual main event for freestyle skiers.

Both Woods and Summerhayes take part in slopestyle, in which skiers perform jumps and tricks on which they are judged. The event will be making its debut in the Winter Olympics; an elevation that has not been universally welcomed within the freestyle fraternity as some prefer the sport to remain outside what is perceived as the mainstream.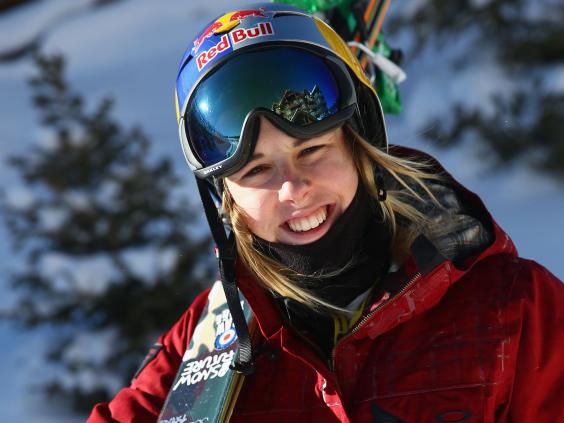 Katie Summerhayes (Getty Images)
"We're not going all mainstream all of a sudden but it does mean there are more competitions and more media which is fantastic," suggests Woods at 22, four years Summerhayes' senior. "There are people out there who will take the X Games more seriously than the Olympics, but there is certainly no bad taste and I feel most of us are grateful.
"Freestyle is a wonderful environment. It's always a party atmosphere. It's not like other sports. When you get to the start gate, you get the others guys stoked for you, they are your friends. There's a great camaraderie. It's a brotherhood and I hope the Olympics portrays that."
It is a sisterhood too. Summerhayes relishes the freedom the sport offers. She has a routine in mind but, come competition day, that might all change. "You do whatever you want, there are no rules, you get judged on your style, your tricks, how it looks. That's why it so appeals to me because there are no rules – you can literally do whatever you want and you get judged on that.
"I have an idea of what I want to do but I am just going to see what the course is like when I get out there. It can all change on the day. It just depends…"
Britain have been set a target of one to two medals on the slopes of Rosa Khutor, the ski resort built from scratch in the mountains an hour from Sochi. It is a tough ask, and it will need one, if not both, of Woods and Summerhayes to earn themselves a place on the podium.
Woods has won medals at the X Games and the World Championships, as well as being a former world No 1. Summerhayes won the first medal by a British female skier for 19 years at a World Cup event last year but a serious knee injury threw her place in the Games into doubt. She only got back on skis on 1 December but is fit and a World Cup silver in Gstaad this month, in her second competition since the injury (Sochi will be her third), suggests form is returning too.
Freestyle Skier James Woods (PA)
It was still an anxious wait for Summerhayes to discover she had been selected. A tweet at 6.30am on Wednesday morning on Team GB's official feed confirmed it. She sat quietly until her mother woke before telling her family that, at the age of 18, she was going to be an Olympian. Yesterday she collected her Team GB kit. She tweeted: "Feels like Christmas."
"It's all a bit surreal," she says. "As soon as [the injury] happened I thought I wasn't going to get to Sochi. It was devastating, the thought that I wasn't going to make the Olympics. The fact that I am now qualified and going makes me so happy. I worked so hard and it has paid off. I have done all the tricks that I need to do, so everything is ready and prepared."
The two friends from Sheffield will be reunited in Russia next month – first up is Summerhayes on 11 February, then comes Woods two days later. "It's not a race," he says. "It's your playground. It's very 'out there' action. You don't want to psych up too much. I just mellow out and feel it."
Source: http://www.independent.co.uk/sport/olympics/winter-olympics-2014-katie-summerhayes-and-james-woods-are-sheffield-s-free-spirits-on-skis-set-fair-9081678.html