News
10 December 2017

Katie Summerhayes: 'It can be dangerous racing Molly down a mountain'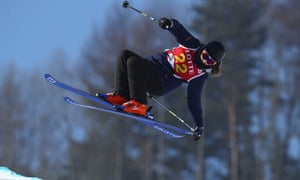 One sister is a bona fide medal contender, feted and funded by UK Sport and with sponsorship deals coming out of her ears. The other gets no lottery money at all and works full-time at McDonald's while chasing her sporting dream. Yet if all goes to plan, Katie Summerhayes and her sister Molly will make history in 60 days' time when they become only the fourth set of sisters to represent Great Britain at the same Winter Olympics.
The 22-year-old Katie reinforced her impeccable credentials for Pyeongchang by finishing second in a major World Cup event in Stubai, Austria, last month. She specialises in slopestyle, which involves skiing off jumps, rails and on half-pipes and performing as many tricks as possible. Four years ago she finished seventh at the Sochi games, despite having recently recovered from a serious knee injury, and the British team are quietly confident she can make the podium this time round.
But her younger sister Molly, 20, has a very different story. She has to combine her time flipping on the half-pipe with flipping burgers on a zero-hours contract to help her fund trips to competitions that will determine whether she makes it to the Games.
"I couldn't ask for a better job," Molly insists. "If I ever need time off I can have it, if there is a shift I need to be covered for, they help. Sometimes I will be away for a while to train or compete, like when I went to New Zealand for a month, and there will be new faces when I come back. They will be like: 'How long have you been here?' and I'll say two years. And then they will usually reply: 'Where have you been?!'
"Most of my colleagues think what I do is amazing," she adds. "But not everyone understands. I was sat having my break with another lad and when I told him I was going to New Zealand to ski he said: 'Oh really. Wouldn't you just like to go to Amsterdam with your mates for three days?'"
Katie has long been recognised as a rare talent. In February 2013 she became the first British skier to win a medal in a World Cup event in 19 years when she finished second in slopestyle competition in Silvaplana when she was just 17. But Molly is no slouch on the slopes either. She was good enough to be crowned world junior freestyle ski half-pipe champion in 2015, but having had to spend nearly a year in rehab after rupturing a ligament in her right knee in January 2016, she is not yet considered good enough for lottery funding.
It means that despite the money she makes from her job, and a grant from SportsAid, she has to rely on her parents to help fund the yearly cost of getting to competitions and training, which she estimates comes in "at a minimum £15,000".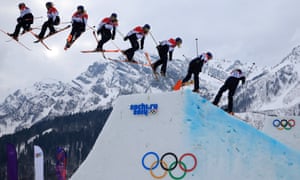 "A lot of the time it is my mum and dad forking out to help me, which I do feel quite bad about," she admits. She has tried other ways to raise money, including a crowdfunding campaign. So far, however, it has raised only £595.
But while Molly is grafting away at work, Katie can rest up and recover when she is not training. "I always tell her she just needs to do a week's work to see how hard it is," says Molly.
Katie, who is sitting alongside her, admits she has never had a proper job. "Molly always takes the mick out of me for not working, but I have been very lucky that I can focus on what I do," she adds.
Yet despite their very different roads to Pyeongchang, the prospect of the Summerhayes's becoming the first set of sisters to represent Britain in the same Winter Games since the curlers Katie and Edith Loudon in Nagano in 1998 is an increasingly live one. (Sheena and Vora Mackintosh were the first in 1948 and 1952, while Serena and Valentina Iliffe did so in 1976, all in Alpine skiing.) Katie is a shoo-in, while Molly – who has finished 17th and 22nd in the first two events this season – has to stay in the top 24 in the overall standings in the next two competitions to make it. If they were to succeed, it would be the culmination of 16 years in the sport, which began when their father – who could see the dry slope from his workplace canteen – took them for a lesson at the Sheffield Ski Village when they were six and four. As Katie puts it: "Pretty soon we were obsessed, so they learned too. Our mum and dad had to drag us off the slope at 11pm on a Friday night."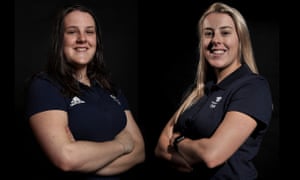 The pair, who still live with their parents, constantly tried to get one over each other on the slopes. In truth, not much has changed in the intervening years. "Whether it is racing or moguls we have always tried to beat each other," admits Katie. "Even now we try to do so on silly things. It can be a bit dangerous because we can be on a day off, just on the mountain, and then we are trying to race down, back and forth."
Molly, smiling, adds: "She has always been better than me and I have known it but we still try to outdo each other every time."
The arguments happen off the slopes too. "It's every day," concedes Katie. "We fell out yesterday. We had to leave Sheffield at 5am and we just couldn't fit all our stuff in Molly's car, a Peugeot 107. We tried to have a silent argument outside the house and it didn't go down well with Mum and Dad. But we always make up and move on and we spend every day together."
Katie says nothing would make her prouder than to see Molly, who watched with her parents in Sochi, joining her for the full 360-degree panoramic Olympic experience. "It would be so cool," she says. And with that both sisters break into massive smiles.
Source: https://www.theguardian.com/sport/2017/dec/10/katie-molly-summerhayes-uk-winter-olympics-sisters-slopestyle