News
25 January 2018

Winter Olympics: Great Britain select record 25 ski and snowboarders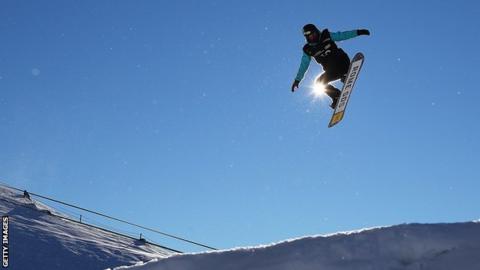 Great Britain have selected a record 25 ski and snowboard athletes for next month's Winter Olympics in Pyeongchang.
Eleven of the squad will compete in freestyle skiing, while snowboarder Katie Ormerod, 20, is a medal hope in the slopestyle and big air events.
Isle of Man's Zoe Gillings-Brier, who has won seven World Cup medals, will be competing in her fourth Games.
Slalom skier Dave Ryding and cross-country duo Andrew Musgrave and Andrew Young are going to a third Olympics.
However, more than half of the squad will be competing at their first Games.
"We are going to be competing in more disciplines in Pyeongchang than we have before," said team leader Dan Hunt.
"We have never had more athletes heading to an Olympics with genuine expectations about how well their performances will stack up against the best in the world."
Squad in full:
Alpine skiing: Charlie Guest, Dave Ryding, Laurie Taylor, Alex Tilley.
Cross-country skiing: Andrew Musgrave, Callum Smith, Annika Taylor, Andrew Young.
Freestyle skiing: Izzy Atkin, Murray Buchan, Rowan Cheshire, Alexander Glavatsky-Yeadon, Tyler Harding, Emily Sarsfield, Peter Speight, Katie Summerhayes, Molly Summerhayes, Lloyd Wallace, James Woods.
Snowboarding: Rowan Coultas, Aimee Fuller, Zoe Gillings-Brier, Billy Morgan, Jamie Nicholls, Katie Ormerod.
Source: http://www.bbc.co.uk/sport/winter-olympics/42815123